Upholstery Cleaning
The 3-step Upholstery Cleaning Method
Our method leaves nothing behind but soft clean residue free beautiful upholstery
Step 1: upholstery is first pre sprayed with baby safe cleaning agents
Step 2: we then hand foam the entire surface
Step 3: we then do a fiber rinse and extract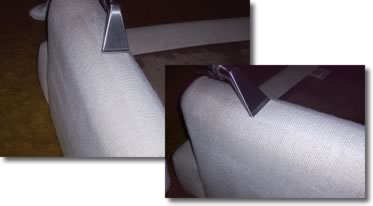 Upholstery Protector
It is very important to protect your fresh clean upholstery. Most new upholstery is treated with protectors, however the protection wears off over time. After cleaning your upholstery Ncc as well as furniture manufactures recommend enhancing this protection after cleaning is performed. Preserving color, beauty, and the life of your upholstery. And also giving you that extra window of time to remove spills before they become stains.
Upholstery Deodorizing / Deodorizers / Deodorants
Don't leave your freshly cleaned furniture smelly. Ncc utilize fresh scent deodorizers as well as enzyme disinfectants for those stubborn odors.
Smoke Odor Removal
For smoke odor removal and smoke odors Nichols carpet cleaning utilizes thermo foggers that mimic where odor causing smoke has penetrated, wiping out any smoke odor.
Contact Us now for your free estimate!
Nichols Carpet Cleaning is based out of Dublin CA, and provides service in Dublin, Livermore, Pleasanton, Danville, San Ramon, Alamo, Blackhawk, Ruby Hill, and the Tri - Valley region in California
©2019 Nichols Carpet Cleaning | Privacy | Licensed, Insured | 925-803-7641